Extendo-Max Roll-Out Shelving
100% Shelf Extension
Roll-out Shelf Storage Racks extend to 100% of their depth for total access to stored items. The "V" roller shelf guide mechanism improves drawer operation for retrieving heavy loads. Many sizes and options are available for this style of storage rack system.
Extendo-Max roll-out shelving features solid steel construction with a standard shelf capacity of 3,000 lbs. per shelf. This high strength storage rack system is ideal for storing tools, dies, fixtures and other valuable items.
Maximum Load: 3,000 lbs. per shelf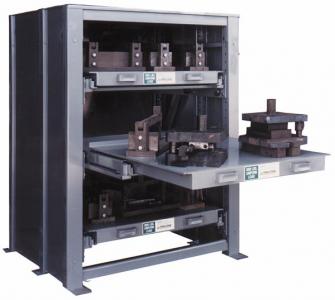 Features & Benefits:
· Solid steel construction
· Shelf capacity 3,000 lbs.
· Smooth V-Wheel operation
· Optional doors, back and side panels
· Locking doors and shelves
Applications: